The Maldives
Garden of Eden
Destination Info
From exclusive private resorts to intimate and contemporary private beach villas, the Maldives specialises in tailor-made island paradises. The private seclusion and romantic luxury offered by adult...
Featured Hotel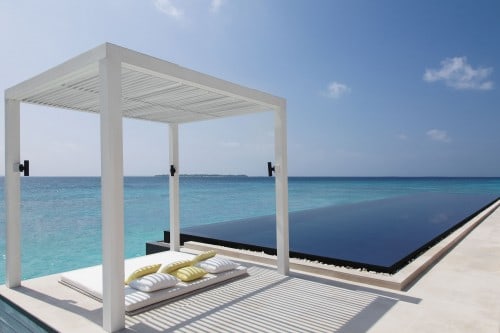 Cheval Blanc Randheli
5 Stars
Discover Shangri-La Le Touessrok Resort & Spa
Scroll
BOOK EARLY - Four Seasons Desroches Island - Save up to 30%!

Brand New Resort Seychelles.
What You Can Expect
Located on the east coast of Mauritius in one of the island's most spectacular bays, the resort is a private hideaway strung along the white-sand beach and turquoise shoreline. Just off the resort's pristine coastline are two beautiful islands: Ilot Mangénie, providing the perfect Indian Ocean island escape exclusively for Shangri-La guests; and Ile aux Cerfs with its spectacular Bernhard Langer-designed 18-hole championship golf course. Its distance to Sir Seewoosagar Ramgoolam International Airport is less than one hour by car.
Shangri-La Le Touessrok offers an unrivalled standard of privacy and personalisation in an atmosphere of refined island luxury. Thoughtfully renovated in accordance with plush contemporary design, every room and suite incorporates indigenous island touches, features uninterrupted, postcard-perfect views of sparkling, turquoise waters and embodies sophistication and style. In addition, with fashionable restaurants, bars and entertainment venues that are set against the backdrop of a dramatic tropical landscape and offer bespoke experiences and luxurious indulgences, Shangri-La's Le Touessrok Resort & Spa, Mauritius, is the hottest spot in the country.  
Though the resort is an ideal destination for lounging on idyllic beaches and succumbing to pampering spa days, it also provides everything needed to keep the more active world traveller entertained as well. The crystalline waters with vibrant marine life beckon. Thrilling water sports and island activities can be customised to suit any guest's unique interests. Just off the resort's pristine shore, there are two paradisiacal islands – Ilot Mangénie, which is open exclusively to Shangri-La's guests and features a trendy beach club and on-island butlers, and Ile aux Cerfs, which holds a spectacular 18-hole championship golf course that was designed by the famous pro-golfer Bernhard Langer
Things to Know
Approximate flight times

Flight time to the Maldives is ca. 13 hours from London Airports

Time Difference

Getting between the airport and the resort islands is normally by speedboat. However, more distant atolls are sometimes served by seaplane

Approximate flight times

Local time in the Maldives is GMT +5 hours.

Average Temperatures

The hot and tropical climate of the Maldives make it a perfect year round destination. Between November and April, there is very little wind
Menu